WrenFX EA is an expert advisor that has an average presentation. Alas, we don't have extended explanations about how everything works. The system is based on artificial intelligence features. So, let's check it out.
The highlights of WrenFX
We have various blocks with claims and statements about how the system works and what we have to expect from it. So, there's a list with systemized details and features:
WrenFX can provide us with automatic trading on our terminal. So, we may do anything in addition.
The robot can provide us with standard data like SL and TP levels with entry points.
We don't need a pergolas trading experience to get started with the system.
We have to run an account with at least $200 on it.
The optimal account balance, as usual, has to start from $1000.
We can get the system ready to go within several minutes.
There is a list of the allowed to work accounts: ECN, NDD, Standard, Micro, and Mini.
The system works based on preset rules to manage all the assigned tasks right from sending orders.
It knows how to decrease drawdowns if the market goes against the open orders.
The advisor provides us with 24/7 support.
The developers think those features set WrenFX apart in the market:
Smart money management
The robot can help us with standard money-management activities like calculating proper levels of Stop Loss and Take Profit. It also manages lot sizes based on the available margin.
Supports all accounts
It is compatible with all account types, including ECN, NDD, Standard and micro accounts.
No hedging or scalping
It is not focused on generating quick gains that can result in losses at times.
Trading strategy of WrenFX
The system works with a Grid of several orders.
We can work with the charts: EURUSD, USDCHF, EURCHF, and USDJPY.
The only time frame to trade is H1.
WrenFX reports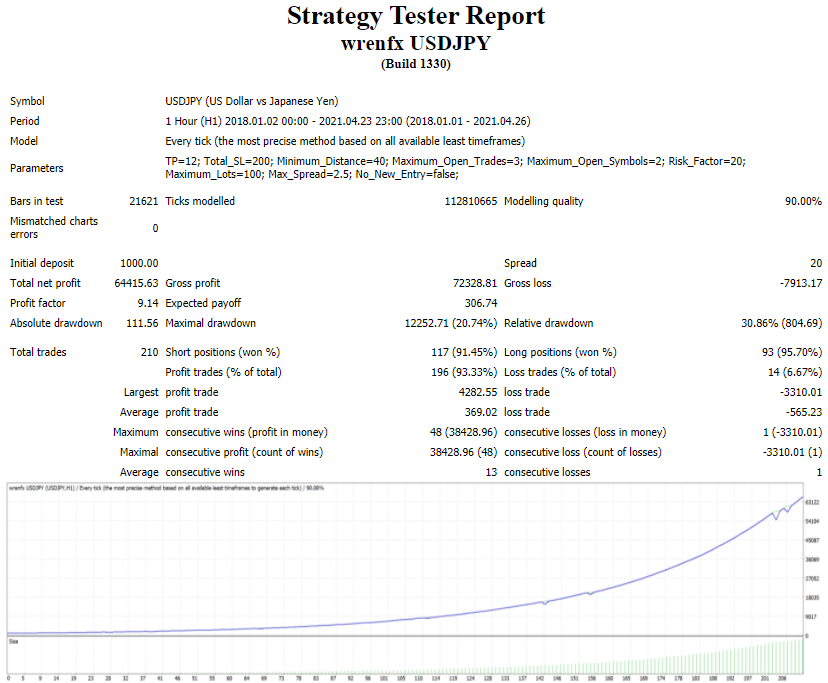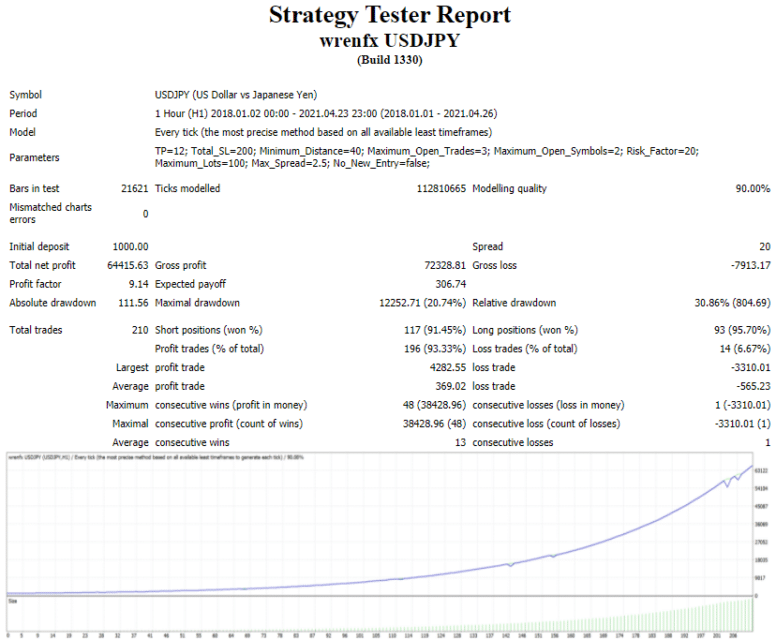 There's a report of testing USDJPY provided. The time frame was H1. The data was received from an unnamed broker for a three years period. The modeling quality was 90.00% when 20-pip spreads. An initial deposit was $1000. The advisor increased it to $64,415. The profit factor was 9.14. The maximum drawdown was 20.74%. WrenFX has traded 210 deals with the win rate being 91% for shorts and 95% for longs.
Trading results in real time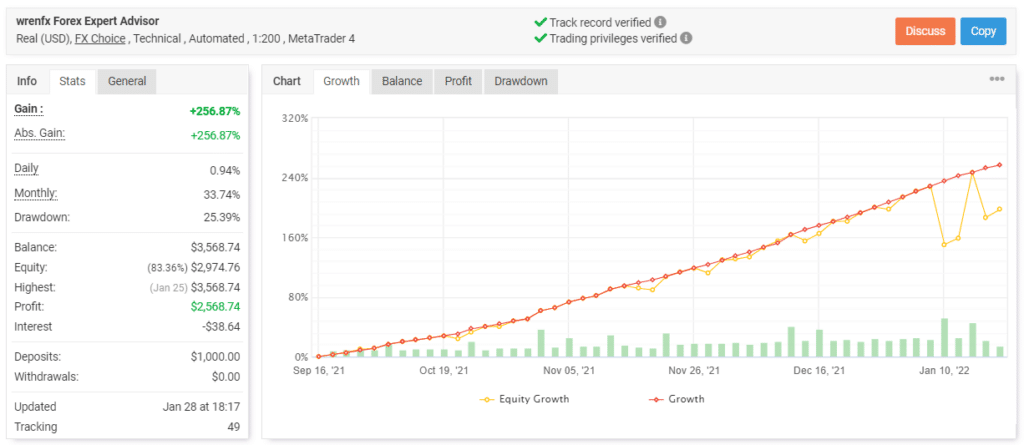 WrenFX has been working on a real account that was created on FX Choice. It trades automatically with 1:200 leverage on MT4. The account has a verified track record. It was created on September 16, 2021, and deposited at $1,000. Since then, the total gain has become 256.87%. An average monthly gain is 33.74%. The maximum drawdown is 25.39%.

The advisor has closed 62 orders with 697.5 pips. An average profit is 14.22 pips when an average loss is -22.64 pips. The win rate for long trading positions is 100% when for shorts it's 85%. An average trade length is one day. The profit factor is 5.81. It's a high number for a paid advisor.


Trading is possible on EURCHF, EURUSD, USDCHF, and USDJPY. EURUSD with 21 orders is the most actively traded pair.


The advisor works during the Asian and European sessions mostly.


Friday is the less traded day with 9 deals.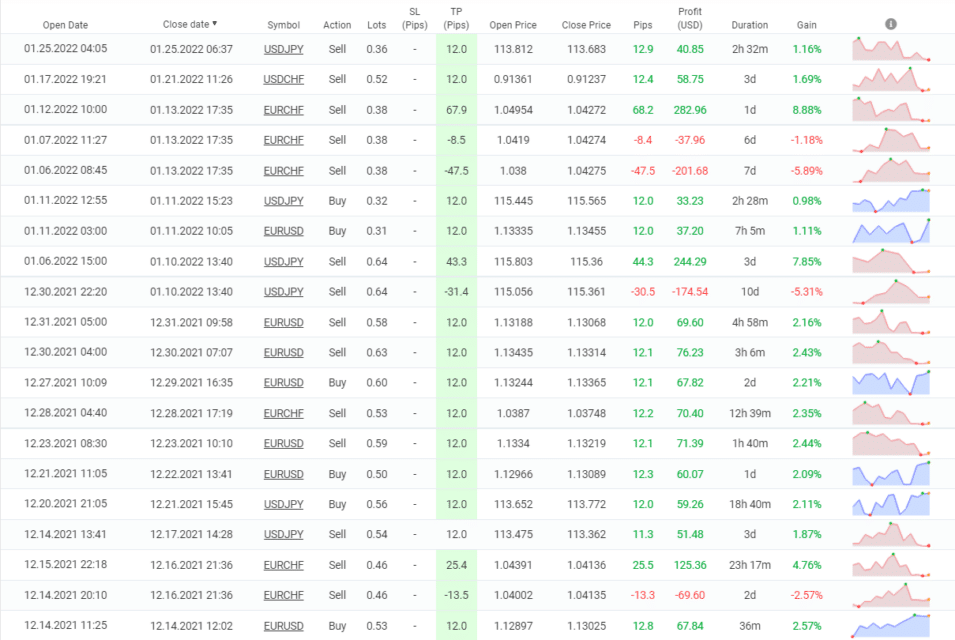 The advisor works with dynamic SL and TP levels. We may note some orders have twice increased lot sizes.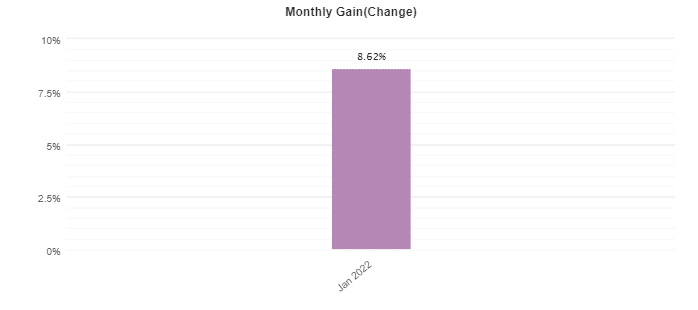 January 2022 is profitable so far.
WrenFX price
There are various packages available: Basic, Pro, and Enterprise. The Basic pack can be bought for $299. There are two real accounts, 18-month license, free updates, and support applied. The Pro pack can be bought for $399. There is a 24-month license for three accounts. The ultimate pack – Enterprise is available for $499. There are four lifetime licenses, free updates, and support included.
Customer support
The developers provide average support. They answer questions within half a day or so.
Are traders happy with WrenFX?
The last testimonials showed that people are satisfied with the robot.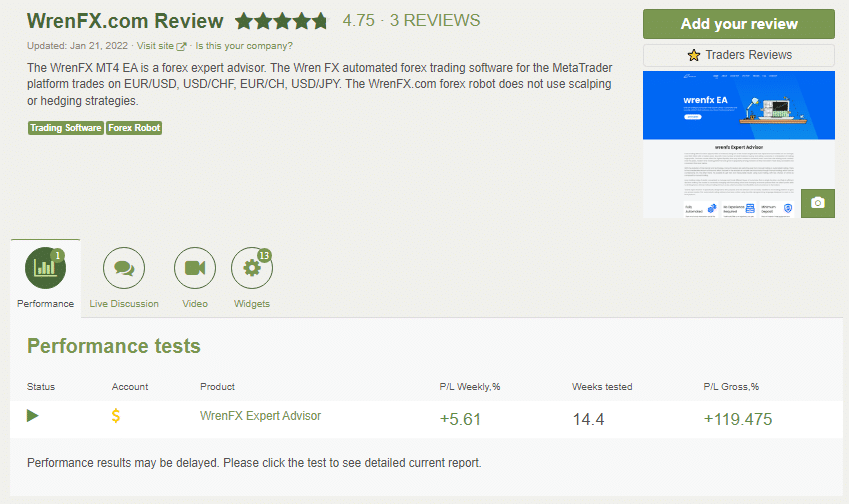 Good. WrenFX has created a page on Forex Peace Army. We have three testimonials written that formed a 4.75 rate. We also have a real account connected to it.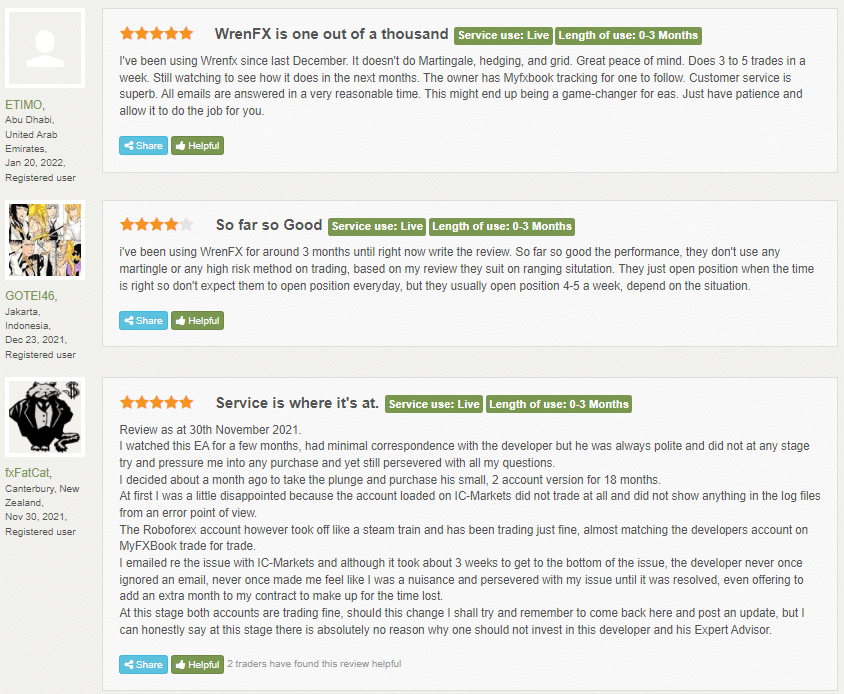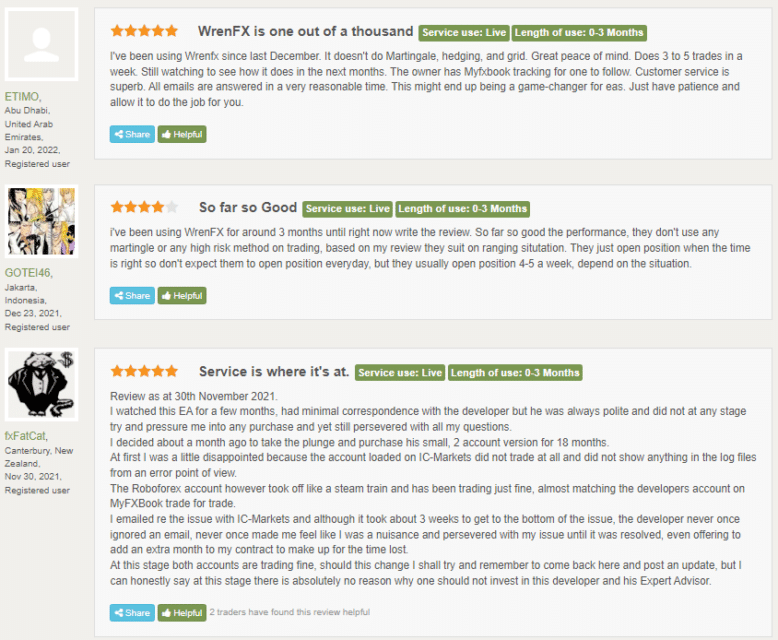 People shared their trading experience and provided info about the quality of support.
WrenFX is a trading advisor that consistently provides solid profits with medium drawdowns. Anyway, there's a Grid with Martingale that can set our account at high risk. So, the final decision is up to you.
WrenFX is a trading advisor that consistently provides solid profits with medium drawdowns. Anyway, there's a Grid with Martingale that can set our account at high risk. So, the final decision is up to you.
Advantages
Backtest reports shared
Trading results provided
The system is profitable with medium drawdowns
Testimonials provided
Disadvantages
No team revealed
No settings explanations provided
No strategy details given
No risk advice provided
There are risky strategies on the board