There are very few special applications designed to simplify stock trading. However, even among them, you can find exciting options that deserve your attention. One of them is the Stock Trainer (ST). This application is as simple and convenient as possible so everyone can use it. To find out all the details, we advise you to read our Stock Trainer review to the end.
About ST
Stock Trainer is an unusual mobile application that aims to teach traders how to trade stocks. It was created many years ago by A-Life Software, LLC. This company produces various software that can be used for virtual trading. She is not very well known to the general public, but she is considered reliable and worthy of attention in narrow circles.
ST is a learning app. Therefore, it can be used to trade only virtual assets without the possibility of switching to actual shares. On the one hand, this is an advantage since the learning process becomes safer and does not lead to significant financial losses. At the same time, the user-friendly interface, simple navigation, and broad functionality cause regret that ST cannot be used in actual trading. The application is quite popular among novice traders. Since it was added to the Play Market, it has been downloaded over 1 million times. Users also left hundreds of reviews and awarded the ST an average rating of 4.4 points.
Stock Trainer is provided to traders without any fee. It is relatively small and does not put forward special requirements for gadgets. In this regard, it can be installed on most Android smartphones. The possibility of free use leads to the appearance of the main disadvantage – advertising. It is found wherever possible, and it is impossible to get rid of it, even for money.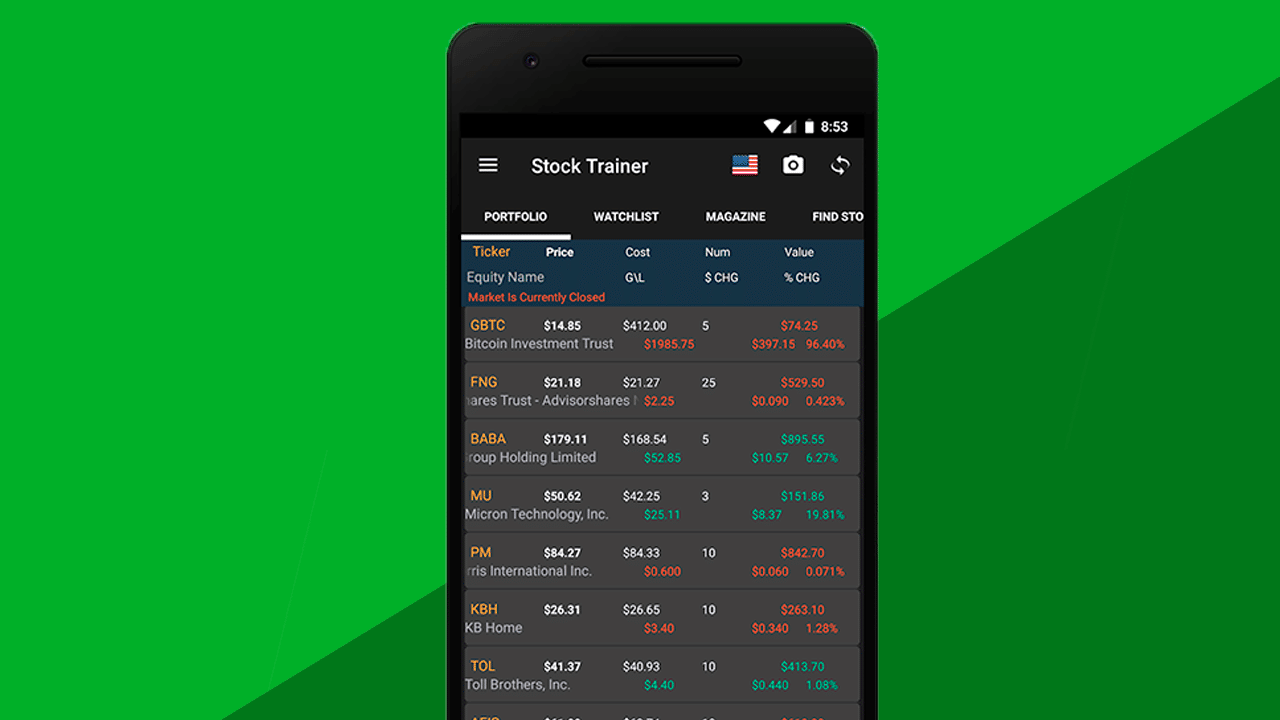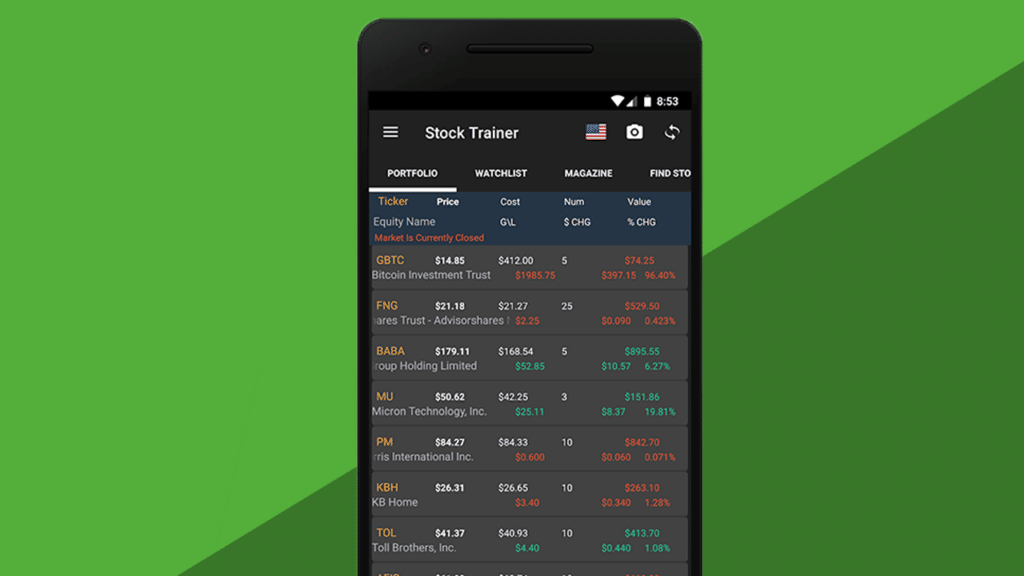 Key features
ST is a simple application that even a child can learn to use. However, for it to work perfectly, you must perform some preparatory steps in compliance with the standard algorithm.
Procedure:
First, go to the Play Market and enter the application's name in the search bar.
In the empty list, under the first item will be the official version of ST.
Download the application to your smartphone or tablet with the Android operating system (others are not supported).
After that, install and run it.
Next, you will be prompted to complete a simple registration, with the need to provide standard data. You can also create an account using some social networks (a faster way).
After passing all the preparatory procedures, virtual money will be credited to your account, which can be used for investment.
Go to the application's main page and select the shares you want to purchase. Before doing this, carefully read the available information, study the provided graphics, and so on.
Buy shares and follow the dynamics of their prices. You sell them at the right time, and the absolute difference in cost will become your virtual earnings.
The ST doesn't have a lot of hidden features. Therefore, we have selected a few well-marked nuances, which are the most important for traders.
ST Features:
User support. As such, there is no support service. There are only a few people who do some work with clients and also help to solve some issues. To contact them, you need to send an email. Alternative communication options are not provided. The result will have to wait a long time. Most often, it takes more than three days. It is necessary to conduct a dialogue with representatives of the developer company in English, so some traders cannot do so without an interpreter.
Updates. Stock Trainer is constantly being upgraded. Therefore, users often receive messages about the need to update it. As of today, the latest version of the application is dated July 16, 2022. It fixed some minor bugs that typically prevented traders from using all the application features. Another update is planned shortly, but the exact date of its release has yet to be indicated.
Safety. Stock Trainer can be called a safe application. All its users conduct operations with virtual accounts, so the probability of losing real money is zero. Also, developers only require you to provide personal information when registering. In this regard, you can even enter a fictitious name, but the email must be accurate. In addition, the Play Market checked ST for viruses dangerous to devices and did not find any of them.
Information materials. The application has a section dedicated to economic news, analytical information, statistical data, and much more. All this enables users to engage in self-development and study the world of trading in detail. All materials are provided in English with the possibility of translation into a language convenient for you.
Trading account. Stock Trainer has a virtual one. Immediately after registration, $20,000 appears on it, which you can freely dispose of. If you have problems and lose all the money, the process can be started again.
Simply the best Stock Trainer app will be helpful for every trader. It will make it possible to simplify the training in stock trading and will take this process to a new level. Using the application, you can immediately feel all its advantages and forget about other options.
Stock Trainer review: positives and negatives
Stock Trainer review: positives and negatives
Traders who use Stock Trainer highlight the app's many advantages over other programs. They also note the presence of several negative aspects in his work.
Traders who use Stock Trainer highlight the app's many advantages over other programs. They also note the presence of several negative aspects in his work.
Positives
reliable developer
over a million downloads
easy to install even on outdated smartphones
simple interface
convenient navigation
wide functionality
a large amount of analytical data
opportunity to receive economic news
support for most stock markets
high rating
constant updates
much positive feedback
Negatives
a lot of annoying ads
it is impossible to trade tangible assets
limited support