FXCipher is a robot that belongs to the Forex Store family. Usually, they have the shortest possible presentations. We have a single claim that "One of them has been optimized since 2010 and is highly reliable. The other one has been optimized since 2017, which helped to increase the profitability of the robot." It's time to figure out if it's true.
The highlights of FXCipher
The developers tried to explain to us how everything works. Alas, it's not enough intel to be sure that the system fits our expectations.
The robot can work on a terminal automatically, openings and closing orders.
We can work on MT4 and MT5 terminals.
The system follows FIFO rules. So, there's no Grid of orders.
We can open trades on five pairs GBPUSD, EURJPY, AUDUSD, USDCAD, and EURUSD.
"The EA has a special Preset selection mode. That means that after running the EA, you will be able to choose whether to use the mode with settings that have been optimized since 2010 and have a very high reliability rate, or use the Preset with settings optimized since 2017, which provide higher profitability and require a lower initial deposit."
It uses two "different" strategies behind the system.
We can choose what strategy we prefer to work with.
There's a possibility of automatic switching between them.
It places SL and TP levels for open deals.
Money management
There's money management applied. The system calculates lot sizes for us automatically based on preferable risks and available margins.
Generates some of the monthly income
The system makes profits but it trades with insanely deep drawdowns. It's risky because it can trigger a lack of margin and Stop Out.
Drawdown control
It knows when it's the right time to get out of the deal and close it with losses.
Trading strategy of FXCipher
There are two unnamed strategies applied.
It works with GBPUSD, EURJPY, AUDUSD, USDCAD, EURUSD.
The main time frame is H1.
Backtesting reports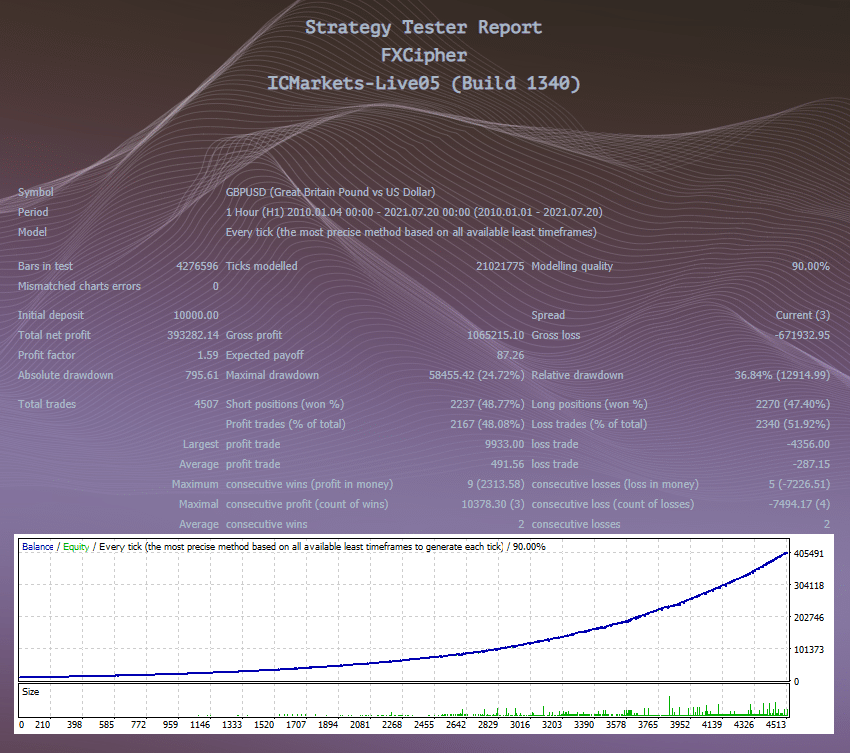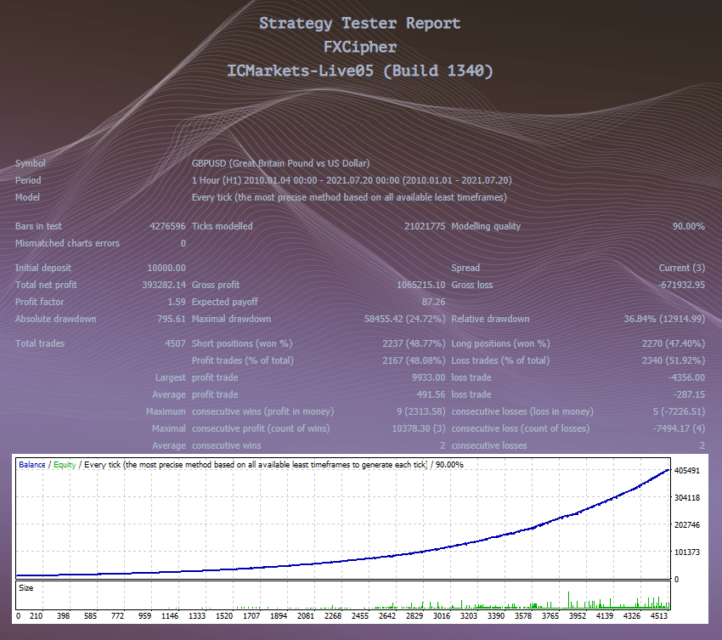 We have a backtest report of GBPUSD on the H1 time frame. The broker was IC Markets with data from 2010 to 2021. An initial deposit was $10,000. The total net profit has become $393,282. The profit factor was 1.59. The maximum drawdown was average, 24.72%. There were 4,507 trades traded. The accuracy was between 47% and 48%.
Trading results in real time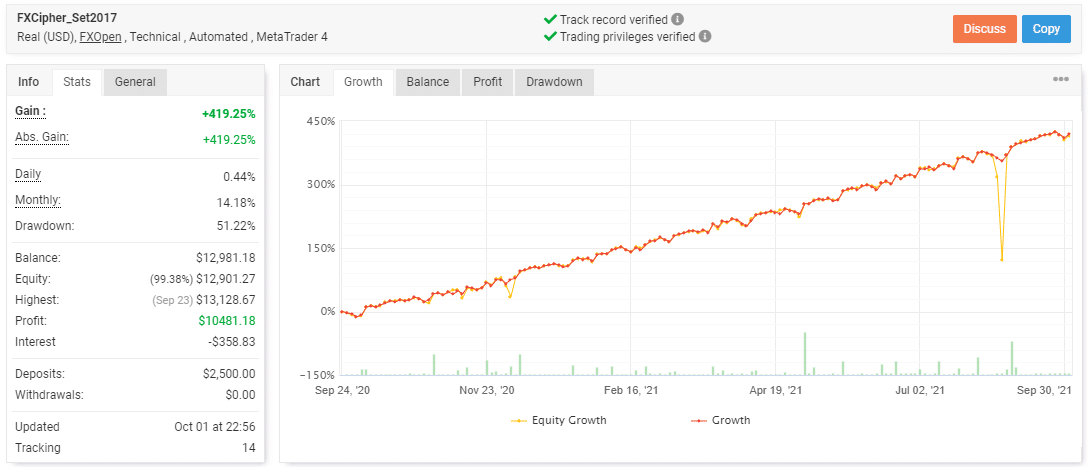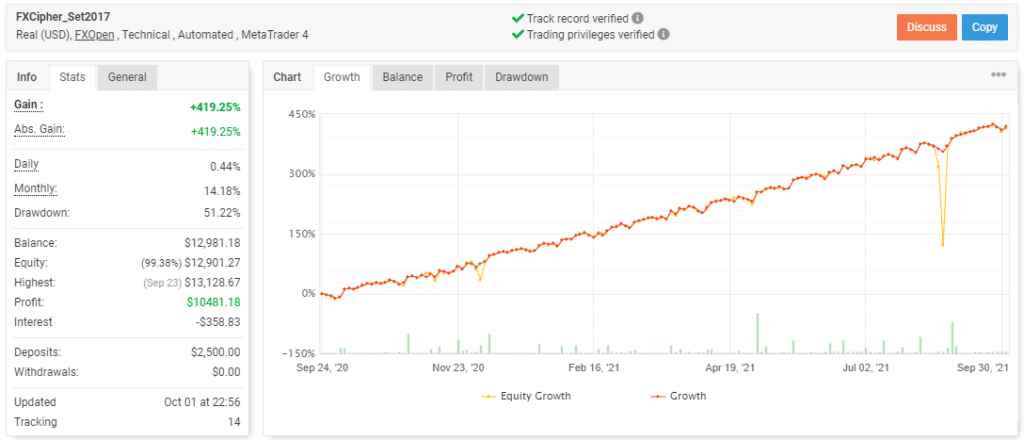 It's nice of the developers to provide us with relevant and Myfxbook verified trading results. It's a pro because we are allowed to know what's going on in the market. The system was applied to a real USD account on the FXOpen broker automatically. The leverage level wasn't mentioned. The platform is MT4. The account has a verified track record and verified trading privileges as well. The account was deployed on September 24, 2020, and deposited at $2,500. Since then, the absolute gain has become 419.25%. An average monthly gain is 14.18%. The maximum drawdown is 51.22%. We are sure that these deep drawdowns involve high-risk trading.


The system has traded 230 orders. An average win is 61.95 pips when an average loss is -68.08 pips. There were 77.03 lots traded. The win rate for Longs is 57% when for Shorts, it's 52%. An average trade length is two days. The profit factor is 1.85.


We have trading results for two cross pairs only. There is Martingale applied because there are losses in pips but profits in money.


The advisor focuses on trading the European trading session.


It works with medium risks to the balance.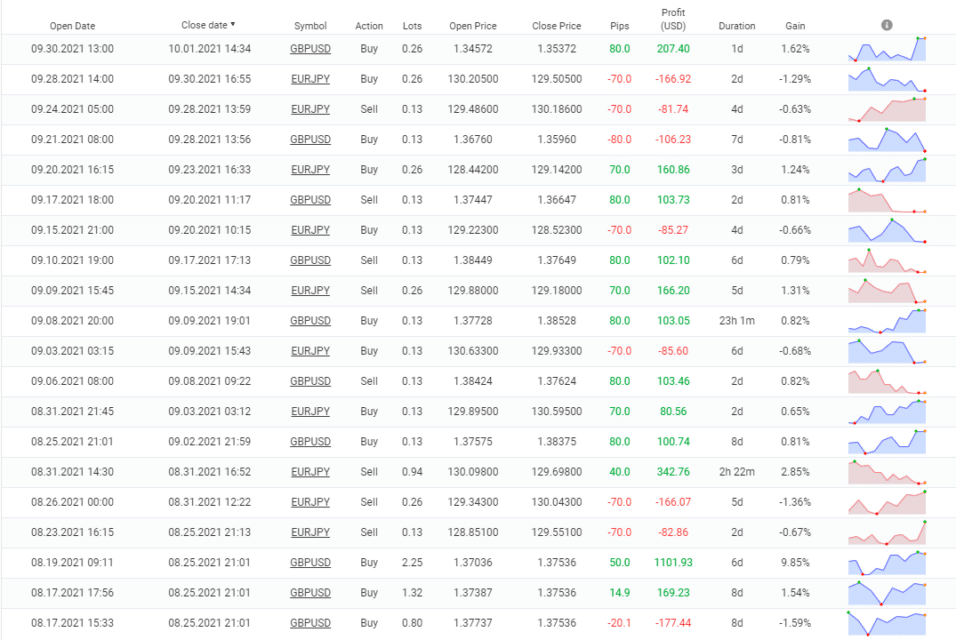 The robot closes orders with losses quite often. The system can keep deals on the market for a week.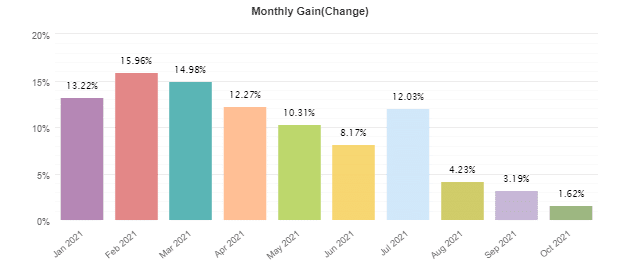 We may note that profitability went down significantly.
FXCipher price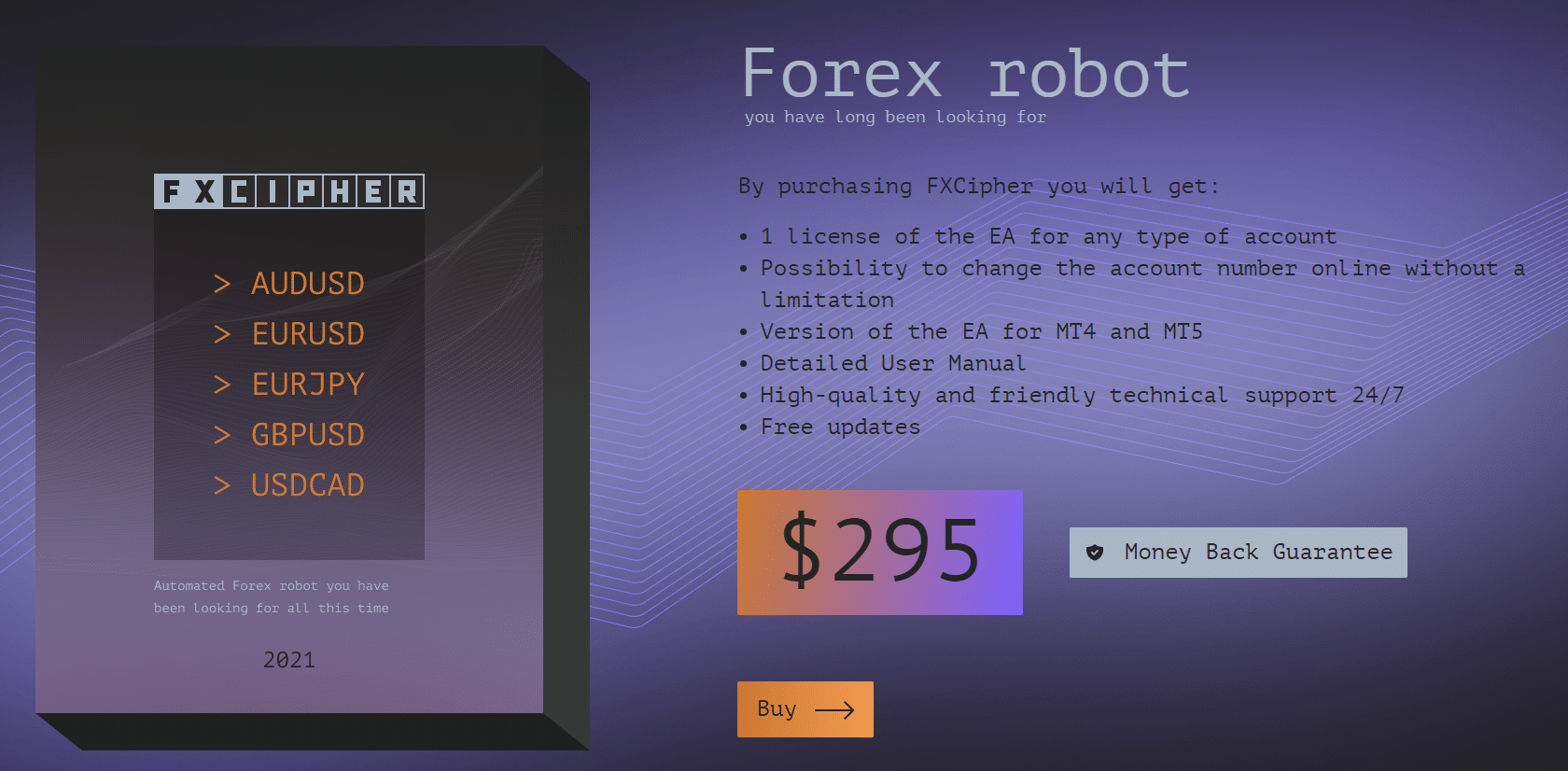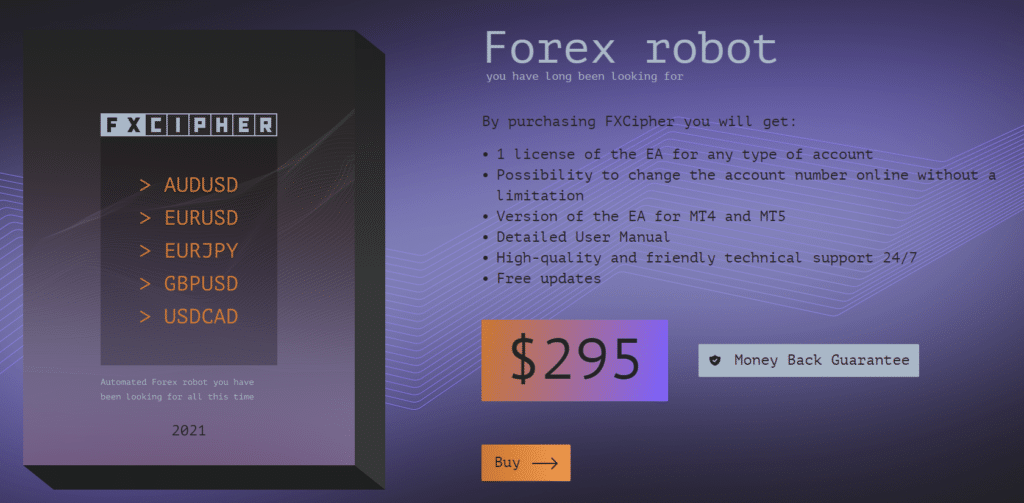 A single lifetime copy of the robot costs $296. There are demo accounts provided. The pack also includes a user guide, quick-to-answer support, free updates, and free upgrades. The refund period is 30 days.
Customer support
We don't know how good their support is. To get in touch with support traders have to fill out their online contact form. It is not enough and it may take hours if not days before the traders will receive answers to their questions.
Are traders happy with FXCipher?
We have no idea if the system works well on users' accounts because there are no testimonials written on FPA or Trustpilot.
People say that FXCipher is …


We have no testimonials written to form a vision about how the system works on clients' accounts.
FXCipher is a trading solution that works on a real account making some profits. Trading results showed that one of the mentioned strategies is Martingale. The presentation is short and doesn't explain everything well.
FXCipher is a trading solution that works on a real account making some profits. Trading results showed that one of the mentioned strategies is Martingale. The presentation is short and doesn't explain everything well.
Advantages
Backtest reports provided
Trading results shown
Affordable pricing
Disadvantages
No risk advice given
No settings explanations provided
No strategy details shown
No people testimonials written