M1 Finance offers a unique combination of automatic investment, extensive portfolio customization, and borrowing and spending options. It's possible to choose from various pre-made "pie" portfolios (a reference to portfolio pie charts) or construct a new one.
This adaptable portfolio platform would benefit investors who want to automate their approach while preserving their risk tolerances and diversification aims. In addition, since M1 doesn't charge any fees for investment administration or trading, you'll be able to put more of your money into action.
The robo-advisory offered by the app will be examined in more detail to see whether it is a perfect fit for your portfolio's needs. Continue reading this article to discover what the app offers and its features.
What does the M1 Finance app have to offer?
It is an excellent alternative for those new to the stock market who don't want to sweat the little stuff. The app users may pick from over eighty different portfolio themes but personalize their portfolios.
M1 Finance is excellent for passive income since it requires no substantial upfront investment. If you don't have much money to invest, you may buy fractional shares in blue-chip stocks. However, young investors should remember passive income and compound interest without employer pensions. So, young people should be more mindful of retirement preparation.
The app can help young people prepare for the future. Because of the professional oversight and the lack of fees and transaction minimums, M1 is an excellent marketing option for young people. Saving for retirement is best started now. Investors still looking for work are believed to under-fund their retirement savings.
The app provides essential financial advice to new investors, such as allocating portfolios between stocks, bonds, and other assets based on age and risk tolerance. Although it is not intuitive, automated portfolio rebalancing is conceivable with M1 and M1 Plus. Both have this. However, one trading window each day is unsuitable for day traders or those who need to be very active in their portfolio, say M1 Finance reviews.
1. Safety and security
If you trust the app with the security of your money, you can be confident that they take their responsibilities seriously. M1 security is equivalent to other Robo-advisors and competitors in terms of safety.
The two primary methods in which the app protects your account are as follows:
Encryption
Two-factor authentication
2. Membership plans
Two service levels exist for the app:
M1 Basic (free)
M1 Plus (costs $125 a year, with the first year complimentary)
Automatic investment rebalancing, a cash management account, and margin loans are included in both tiers, but M1 Plus adds a few extra options.
| | | |
| --- | --- | --- |
| Features | M1 Basic | M1 Plus |
| Annual fee | $0 | $125 |
| Trading windows | One per day (AM) | Two per day (AM & PM) |
| Margin loan interest rate | 3.50% | 2.00% |
| M1 Spend APY | 0% | 1% |
| ATM fee reimbursements | 1/month | 4/month |
| International debit purchase fee | 0.8% to 1.0% | 0% |
3. Support
M1 Finance's customer support is minimal. To get in contact with the app, you'll have to open a support ticket. Once your ticket has been received, M1 Finance's customer service representatives will contact you.
Customers may reach customer service representatives by calling 312-600-2883 from 9:30 a.m. to 4:00 p.m. Eastern Standard Time (EST) Monday through Friday, during regular trading hours in the United States. In addition, it's possible to get one-on-one help by sending an email. The app plans to increase its support options in 2022.
4. Budgeting and goals
There aren't any options for setting financial goals or utilizing financial calculators in the app since it is designed for more experienced investors. Furthermore, no human consultants are available since it does not provide consultation. In addition to financial education, M1's blog offers a wealth of high-quality investing material.
Investors may be concerned if they don't have access to resources or guidance in formulating goals. Streamlining the investing process and optimizing capital growth are portfolio management goals. Because the app is not an automated adviser, it does not consider MPT or your investment time horizon. Investment opportunities, portfolio flexibility, and automation may all be gained without sacrificing management duties by contacting M1.
5. Special features
What sets the app apart from the competition? First, let's look at some of the unique features that it offers over other online brokerages.
M1 Finance's basic pie strategy makes long-term investing less intimidating. In addition, there are 80 portfolios of experienced investors from which you may pick based on your risk tolerance and favorite sector.
An excellent option to invest while keeping your hands off the till is M1's Smart Transfers, a component of its intelligent automation.
You'll love M1's fractional share option if you don't have a lot of money to start with. If you have only one dollar in your account, you may begin investing in significant corporations and ETFs.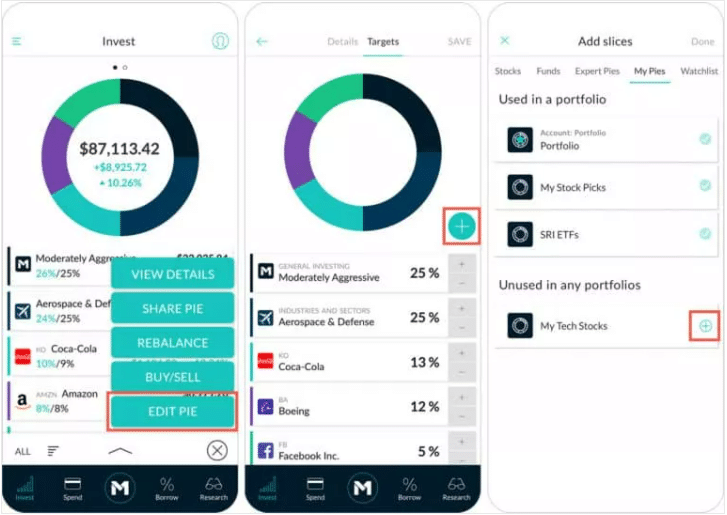 6. Alerts
Desktop and mobile notifications may be activated to avoid missing important updates.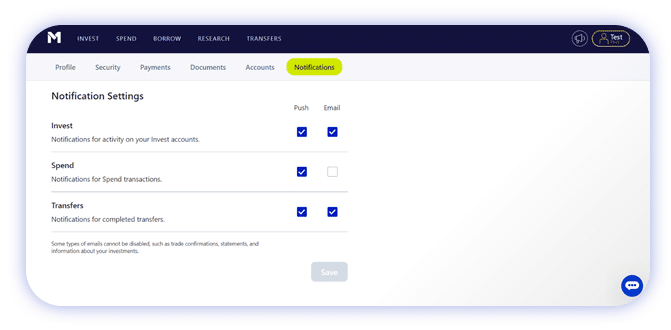 7. Transactions and reporting
The app's website now offers digital banking and a credit card alternative.
M1 spend allows you to track both your investments and your checking account. Then, buy, send, or set up direct deposit using a debit card. The FDIC covers deposits up to $250,000. In addition, the M1 Plus customer gets cashback, 1% interest, and free check-sending.
M1 Plus members get access to the Owners Rewards Card. In addition, investors who utilize the platform's affiliated companies to buy do not pay an annual fee.
Smart Transfers in Plus can help you save money, optimize IRA contributions, and invest in brokerage accounts. In addition, using layering principles may automate financial flow.
Pros and cons
Let's look at the pros and cons of the app.
| | |
| --- | --- |
| Pros | Cons |
| Getting a low-interest margin loan is possible with as little as $5,000 of your own money. | There are just a few financial tools and calculators available. |
| Trading and account management are entirely free. | To allocate investments, there is no aggregation of external accounts. |
| Spending and borrowing options improve portfolio management. | There are no financial planners or advisers in this area. |
| Portfolio management has a wide range of customization options. | Tax losses cannot be used in any manner. |
Final thoughts
For those who don't want to spend time investigating their alternatives but still want to put money away for retirement or a raise, this app is the organization for you. It provides a slew of intriguing possibilities. It's easy to assess how close you are to attaining your financial objectives using M1 pie.
Aside from specific stocks and ETFs, your M1 account does not have access to any of the research and charting tools offered by TD Ameritrade and Fidelity. Using a broker's pre-allocated expert portfolios may make investing more accessible and exciting. In addition to purchasing pies, the app offers various other services. There is no possibility for day trading or investing in mutual funds. Instead, the broker should offer us futures, currencies, and individual bonds.